I received the following e-mail and decided to post it for information.
(Got one for myself. Nice item.)
Andrew Jackson Commemorative Coins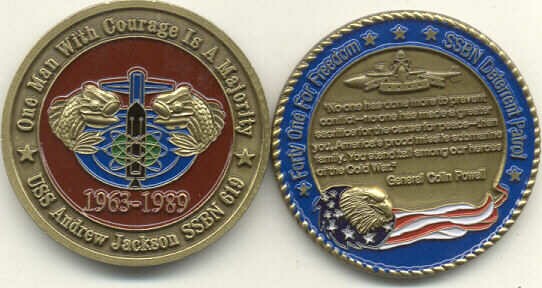 Hello-
My name is Shelly Saxton, daughter of RMCS(SS) Curtiss Gardner (Ret.). I recently started a business, quite by accident, of designing and manufacturing coins to commemorate the decommissioned subs of the submarine service. I originally designed and had made 5 coins to honor my dad's sub service. (They are the USS Trumpetfish, USS Nathanael Greene, USS Jallao, USS Pollack and USS Haddo.) After offering these coins to other crew members of those boats the response was overwhelming and I have had many men ask me to create coins for the other boats they were on.
One of the men asked me to create a coin for the USS Henry Clay and several others...This is the reason I am writing to you. I would like to offer this coin to you as well as all the other members you have an address for. I do not want to "mine" your site of crewmembers email addresses...just offer them a memento of the boat they proudly served on. I have attached a picture of the Andrew Jackson and will only have a 100 of them made. So they will be a "Limited Edition". The coins are 1.75" in diameter and are made of brass.
Please keep in mind that the coin is MUCH better looking than the picture shows. The others coins I had made are the George Washington Class, Ethan Allen Class, the "Harder, Darter, Trigger, Trout...Always In and Never Out!" and the "B-Girls". I can send you pictures of them as well if you're interested. I am also having the ENTIRE "41 for Freedom" fleet made as well. Again, each is a Limited Edition of 100 coins.

If you would like to purchase one please email me at shellwe@grm.net with "USS Andrew Jackson" in the subject area. I am selling them outright for $20.00 each (s/h included in the price...MO residents must add 5.725% tax) or you can take your chance on eBay. The Andrew Jackson will be ready to ship in about 2-3 weeks. I thought you and your fellow crewmembers would like to get the first shot at this coin.
I accept the following forms of payment: PayPal, Money Order, Personal Check and BidPay.
My address is:
Shelly Saxton
PO Box 24
Graham MO 64455
Please let me know what you think about the coin.

Thanks and Smooth Sailing-
Shelly Saxton ~ Owner
(Proud Daughter of a Submariner!)
(SS) Challenge Coins - Let me design your next reunion coin!